When Loss Comes, Grief Follows
Making the pieces fit after the last goodbye.
The Journey Through Loss and Grief
Physical, mental, emotional, and spiritual responses are normal following all types of loss. Join us as we explore the journey we travel from loss to healing as we seek to put the broken pieces of our lives back together.
"Grief is the human reaction to a significant change, loss, or alteration of relationships between persons. The emotional reaction or response to a loss in your life. "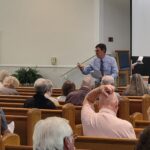 William B. (Bill) McDonald
Grief Minister
The Mystery of Grief | Session One
Every Grief Is Unique | Session Two
The Healthy Grief Pattern | Session Three