Week of September 24, 2023
Announcements
Enrichment Center Hours
The Enrichment Center will be open once again during regular office hours Monday-Friday 8:00a.m.-3:30p.m.
Ladies Class
Wednesdays at 9:30 a.m. in Room 203. Ladies, you will be studying about worship that pleases God and will use the book MORE THAN A FEELING to help in your study.
Mid-Week Bible Study
We have a Mid- Week Bible Study every Wednesday evening. Come join us!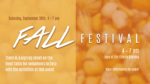 Fall Festival
September 30th 4-7pm
There is a sign up sheet on the front table for volunteers to help with the activities at this event. More information to come!
Sunday Morning Worship
October 1st we will have worship, an add-a-dish meal and worship again at 12:30 p.m. We will not meet Sunday evening.
Door Knocking Campaign
October 2nd – 6th
Prayers Needed.
Please pray for each of our loved ones and their families
John Alsobrook has begun treatment for cancer. (Brother of Jenny Martin).
Rodney Bettinger had triple bypass surgery, he is doing well (Cousin to Pat Palmer).
Susan Glenn had outpatient surgery on Thursday.
Joe Gulley has prostrate cancer (brother of Susan Miller)
Estelle Hedge is at home on HOSPICE.
Danny Jackson has several medical issues (Brother of Patricia Jackson).
Brian Kavanaugh's surgery has been postponed due to an infection.
Charles Keele had cataract surgery and is doing well (Father of Jeff Keele).
Greg Keele is recovering from a back injury (Brother of Jeff Keele).
Jimmy King is at Three Rivers Hospital, Room 104.
Ron Miles is having health issues (brother of Cathy Moore).
Steve Perry started chemo (brother of Marilyn Phillips).
Brenda Forrest Rudolph is dealing with health issues (Sister of Buddy Forrest).
Tim Smith is in St Thomas West fighting a post surgery infection. He may face more surgeries.
Carolyn Williams is now at Three Rivers Hospital for rehab. (Cousin of Angie Daniel)
With Sympathy we send our love to the families of:
There are no deaths to report at this time.
The Jesse Tree
The Jesse Tree is a journey through the stories on Jesus's family tree.
Each week we will read a Bible story about someone on Jesus's family tree.
Please see your bulletin for details and the each week's coloring emblem.
Extended Prayer Requests.
Marilyn Barger, Elaine Bell, Dot Cochran, Laura Dabbs, Drew Damesworth, Lori Daniel, Darren Danielson, Sandra Davis, Connie Duke, Willard and Jean Ferguson, Marion Floyd, Buddy Forrest, Vickie Hanna, Larry Hayes, Deborah Hughey, Gerion and Ruby James, Jane James, Linda Johnson, Nellie Kavanaugh, Becky Keele, Dorothy Killebrew, Jennette Killebrew, Johnny Medlin, Cynthia Merrick, Cathy Moore, Jeanette Moore, Matt Moore, Vicki Moore, Josephine Mosley, Pat Rushton, Dean Short, James Schmidt, Rebecca Smith, Glenda Spears, Carlton Wheeler, Richard Wheeler, and Jerry and Lou Ann Wright.
Those in the Nursing Homes:
American Health Communities:
Amanda Hamm, and Carolyn Tucker
Those who are shut-in:
Linda Brazzle, Anita Curtis, Sandra Davis, Estelle Hedge, Gerion James, Rob Jones, and Norma Morefield
Those at Magnolia Place Assisted Living:
Betty Davidson, Gary James, Ruby James, Barbara Mayberry & Janie Pruett
Out of Town Assisted Living/Nursing Home:
Elaine Bell, Lem Cutshaw, Tommy McCaleb, and Charles Stephen.
Please remember those who are serving in the military and are away from their families.
Community Needs & Reminders

October Door Knocking Campaign
"Most Wanted" forms are available on the front and back tables for you to fill out if you know someone that you wish to have a visit during this campaign.