Week of January 29, 2023
Announcements
Meals For Flood Recovery
The Enrichment Center is now open for lunch for the workers and flood survivors.
Ladies Bible Class
We will resume after the holidays.
Congregational Night Out
We are hosting a congregation Night Out – a combined Men's and Ladies' Night Out on February 6th. In our Enrichment Center. The menu is taco salad. Plan to bring $4.00 for the meal. We will have a game night – feel free to bring any games that you would like to play. Several games will be provided.
Challenge Youth Conference
February 24th – 26th
Eggstravaganza – Spring Festival
March 25th. More information about this will be shared soon.
El Salvador Mission Trip
Anyone interested in this year's El Salvador mission trip should get in touch with Mike Goodman very soon. It looks like trip will cost around $1,315 / each this summer. We are looking at July 6th or 7th and returning July 13th or 14th .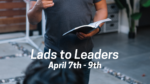 Lads to Leaders Conference
April 6th – 9th. More information about this will be shared soon.
Friends and Family Day
April 23rd. More information about this will be shared soon.
Mission Emphasis Sunday
June 4th. More information about this will be shared soon.
Prayers Needed.
Please pray for each of our loved ones and their families
Eddie and Barbara Breeden – He will start treatments soon. Barbara is having back problems.
Nancy Cooley – She had hip repair surgery on January 24th.
Darren Danielson – He is out of the hospital following a heart attack. (Friend of Cynthia Merrick).
Sylvia Emfinger – She is very ill in Georgia. (Sister of Crystel Collier).
Don Gordon – He is on Hospice care. Please pray for all this family. (Father of Rick Gordon).
Danny Jackson – He is doing better. (Brother of Patricia Jackson).
Becky Keele – She has started her chemo treatments.
Jerry Lowman – He is on HOSPICE.
Jean Mayberry – She has spots on her lungs. (Sister of Betty Pirtle).
Scott Melton – He is a kidney transplant survivor. He is recovering from a partial leg amputation due to an infection. (Friend of James Schmidt).
John Medlin – He is still under doctor's care.
Faye Medlin – She is recovering from surgery, but is facing another one.
Cynthia Merrick – Horizon – She has an infection in her foot.
Susan Miller – She is suffering with spasms in her back.
Ronnie Moore – He is having heart issues. He is at home and will be on medicine.
Josephine Mosley – She is dealing with cancer and would love cards (Aunt of Marlene Bercik and Teresa Forrest).
Jay Pirtle – He is having health problems. (Son of Jerry Pirtle).
Janie Pruett – Humphreys County Nursing Home – She is recovering from pneumonia.
Karen Story Robbins – She is having health issues. (Sister-in-law of Kathy Moore).
Pat Rushton – She is having some health problems right now.
With Sympathy we send our love to the families of:
Our sister, Fay Stephens whose funeral Is Sunday, January 29th at 2:00p.m. at Luff-Bowen Funeral Home.
The Jesse Tree
The Jesse Tree is a journey through the stories on Jesus's family tree.
Each week we will read a Bible story about someone on Jesus's family tree.
Please see your bulletin for details and the each week's coloring emblem.
Extended Prayer Requests.
Marilyn Barger, Richard Black, Nancy Carr, Drew Damesworth, Lorie Daniel, Connie Duke, Nancy Fielder, Buddy Forrest, Vickie Hanna, David Hester, Joshlyn Hodges, Jane James, Cynthia Merrick, Cathy Moore, Jeanette Moore, Matt Moore, Taylor Padget, Nancy Phebus, James Schmidt, Juli Thomason Shannon, Gene Trotter, Carlton Wheeler, and Beverly Williams.
Those in the Nursing Homes:
American Health Communities:
Amanda Hamm and Carolyn Tucker.
Those who are shut-in:
Anita Curtis, Norma Morefield, and Marilyn Walker.
Those at Magnolia Place Assisted Living:
Betty Davidson, Gary James, Ruby James, and Barbara Mayberry
Out of Town Assisted Living/Nursing Home:
Lem Cutshaw, Tommy McCaleb, and Charles Stephens.
Please remember those who are serving in the military and are away from their families.