Week of May 21, 2023
Announcements
Mid-Week Bible Study
We have a Mid- Week Bible Study every Wednesday evening. Come join us!
Meals For Flood Recovery
The Enrichment Center is now open for lunch for the workers and flood survivors.
Men and Ladies Night Out
will be a combined time of fellowship on June 8th. Bring a freezer of homemade (or store bought) ice cream and sides to go with grilled hamburgers. More information to come.
Vacation Bible School
Week of June 12th – 16th. 9:00 A.M. – Noon. – We need your help with Vacation Bible School. The Killen Church of Christ in Killen, AL will come to assist us with VBS as a mission outreach. We need to supply as many workers as we can and they will do the same. The combined effort will allow us to have a Vacation Bible School this year while still managing flood recovery. Please consider helping June 12th – 16th, 9 AM to Noon. Sign-up for a place you can serve on the sheets at the front. Leader positions are important to get filled so we can work on material.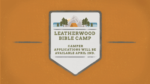 Leatherwood Bible Camp
Camper applications will are available now. Please start praying for camp now!
Transform Ladies Conference
September 8-10 in Pigeon Forge, TN. This is a Ladies only event! A sign up sheet will be on the front table.
Prayers Needed.
Please pray for each of our loved ones and their families
Sandra Davis is having heart issues.
Marion Floyd is in the hospital after a fall.
Brad Holmburg continues having health issues. He thanks you for the prayers offered on his behalf.
Becky Keele finished radiation last Tuesday!
Dorothy Killebrew is now at home recovering from having stents placed.
Karen Landers is at home recovering after a back fusion.
Josephine Mosley is still taking chemo. (Aunt of Marlene Bercik and Teresa Forrest).
Ronnie Pleasant is having more health issues.
Dean Short has cancer.
Anthony Simmons is at home following a stroke.
Carolyn Tucker is in the hospital She is having health issues.
With Sympathy we send our love to the families of:
Pleased to report that we have no one at this time.
The Jesse Tree
The Jesse Tree is a journey through the stories on Jesus's family tree.
Each week we will read a Bible story about someone on Jesus's family tree.
Please see your bulletin for details and the each week's coloring emblem.
Extended Prayer Requests.
Marilyn Barger, Elaine Bell, Richard Black, Barbara Breeden, Doug Bushwar, Nancy Carr, Drew Damesworth, Lori Daniel, Darren Danielson, Connie Duke, Buddy Forrest, Stephanie Fowlkes, Vickie Hanna, Joshlyn Hodges, Jane James, Jerry Lowman, Scott Melton, Cathy Moore, Matt Moore, Ronnie Pleasant, Cooper and Becket, James Schmidt, Joy Smith, Gene Trotter, Carlton Wheeler, and Beverly Williams, Lou Ann Wright.
Those in the Nursing Homes:
American Health Communities:
Amanda Hamm and Carolyn Tucker.
Those who are shut-in:
Anita Curtis, Norma Morefield, and Marilyn Walker.
Those at Magnolia Place Assisted Living:
Betty Davidson, Gary James, Ruby James, Barbara Mayberry, and Janie Pruett
Out of Town Assisted Living/Nursing Home:
Lem Cutshaw, Tommy McCaleb, and Charles Stephens.
Please remember those who are serving in the military and are away from their families